In the course of its activities, Haltadefinizione has built up a vast, exclusive archive of very high definition art images. In 2006, Haltadefinizione became the first company in the world to publish an 8.6 gigapixel photograph of a work of art (the Parete Gaudenziana, or Gaudenzio Ferrari's Wall, in Varallo). That record was broken the following year with a 16.1 gigapixel photograph of Leonardo's Last Supper. This photo was for some years the world's largest digital image. The enormous professional expertise displayed by Haltadefinizione has underpinned the relations established − and the teamwork conducted − with major museums and galleries − the Cenacolo Vinciano (the custodian of the Last Supper), the Accademia di Brera (with its Brera picture gallery), the Cappella degli Scrovegni (Scrovegni chapel), the Gallerie degli Uffizi (Uffizi galleries).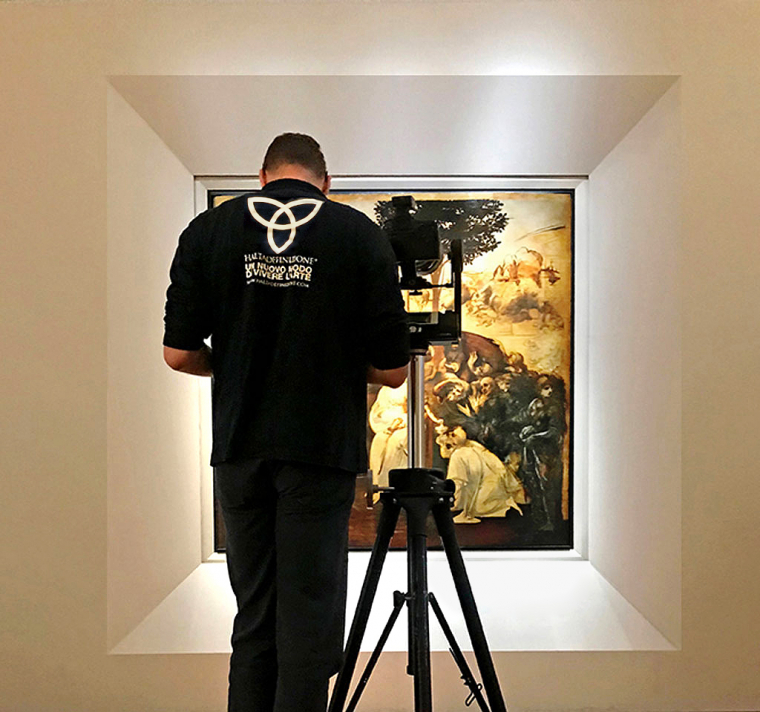 We may therefore conclude that Haltadefinizione's image bank is a creative resource for publishers, advertisers, the media, marketing departments and all who are active within the enormous sphere of cultural activities in general. Unique images may be made available for exhibitions, books, magazines, web sites, newspapers, television and the film industry, paving the way for a new approach to artworks and to our appreciation of the value of art in general.
Haltadefinizione has also consolidated its experience in the Cultural Goods sector. It has conducted major high-definition photographic campaigns dedicated to some of the most famous works making up Italy's artistic and historical heritage. Haltadefinizione currently offers its highly professional services to Superintendencies, Museums, Galleries and other Institutions active in the fields of conservation, scientific investigations for restorers, and enhancement of our appreciation of artworks. The company does so on the strength of its high-tech instruments (high-definition images as an innovative resource to favour our understanding, and foster our appreciation, of masterworks).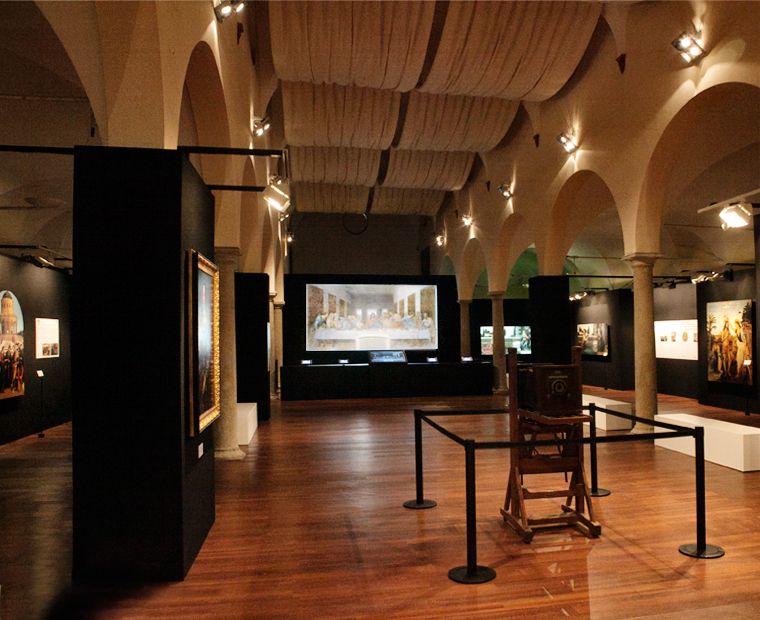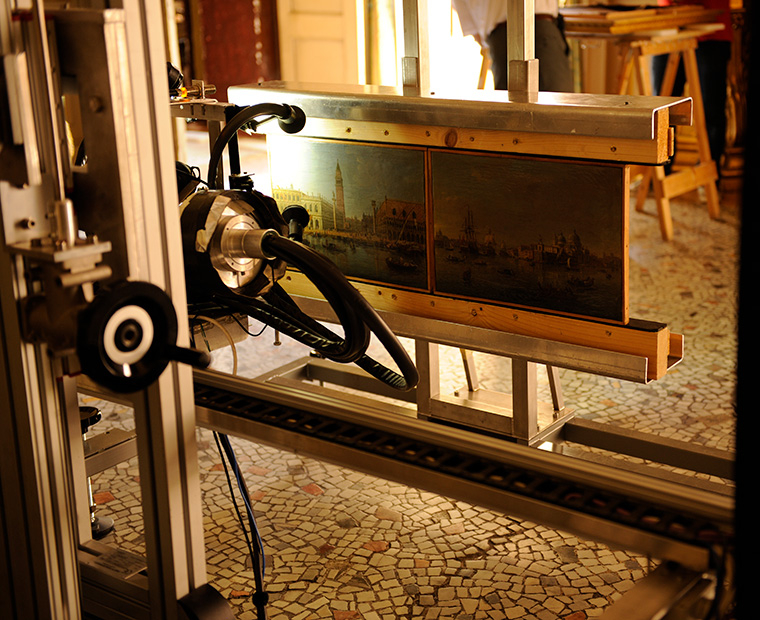 Last but not least, regarding the R&D side of the company's activities, Haltadefinizione LAB is committed, on an ongoing basis, to producing hardware and software resources that may be applied to acquisition and display of images (of the very highest quality, as an enhancement solution targeting world cultural heritage assets).
In 2017, Franco Cosimo Panini Editore took over Haltadefinizione. The Panini concern is a publishing house that, for more than thirty years, has been in the forefront as a player fostering appreciation and conservation of our artistic heritage – including works held in museums and galleries both in Italy and abroad. This takeover has brought together any number of experiences. On the one hand, technologies, skills and know-how in the fields of acquisition and digital preservation of very high resolution gigapixel images of artworks; on the other, the fruits of a longstanding engagement with publishing, and an unceasing commitment to dissemination and to turning cultural goods to best account.
Clients
AMD International Sales & Services
Arcidiocesi di Torino
Ars Electronica Linz
Art For Public
Arti Doria Pamphilj
Arti Grafiche Amilcare Pizzi
Association of Les Equipes du Rosaire
Associazione Culturale BRADAMANTE
Associazione Pietrasanta
Axa Art Versicherung
Banco Popolare
Bank of America Merrill Lynch International Ltd
Bulgari Corporation of America
Carli Produzioni
Casa Editrice francescana
Cedar Communications
Civita Servizi
Cité de la tapisserie d'Aubusson
Comitato per la Solenne Ostensione della Sindone 2010
Comitato d'amore per Casa Bossi
Comune di Bergamo - Accademia Carrara
Comune di Fontanelice
Comune di Milano
Comune di Recanati
Comune di Rossano
Comune di Vinci
Comunicare Organizzando
Consorzio di Valorizzazione Culturale "La Venaria Reale"
Curia Generalizia della Compagnia di Gesù
De Agostini Editore
Diocesi di Novara
Diocesi di Tortona
Editalia
Editions de La Martinière
Editrice "Il Cerchio"
Edizioni San Paolo
Einaudi Editore
Etra Eventi d'Arte
Fascino Pgt
Fondazione Museo Nazionale della Scienza
e della Tecnologia Leonardo da Vinci (Milano)
Fondazione Novara Sviluppo
Fondazione Teatro Coccia Onlus
Genius
Giunti Arte Mostre Musei
Giunti Editore
Governatorato Città del Vaticano
Gruner + Jahr AG & Co.
Istituto della Pia Società Figlie di San Paolo
Istituto Geografico De Agostini
Josè Manuel Ballester
Kibox
Laterza Agorà
Latvian National Opera
Libreria Editrice Vaticana
Malteser Hilfsdienst
Mandragora
Ministerio De Educacion Cultura y Deporte, Spain
Ministero per i Beni e le Attività Culturali, Italy
Museo della Sindone Onlus (TOrino)
Museum Rietberg (Zurigo)
National Gallery Company Ltd (London)
National Geographic Society
Nobili rubinetterie
Oltre il duemila
Opéra théâtre de Metz Métropole
Opificio delle Pietre Dure di Firenze
Pinacoteca di Varallo Sesia
Praesidium
Presses de l'Université du Québec
Provincia di Pescara
RAI Radiotelevisione Italiana
Rcs Libri
Scuola Normale Superiore di Pisa
SDACI - Scuderie Quirinale
Skira Editore
Slovene National Theatre Maribor
Solonuoviautori Edizioni
Soprintendenza per i Beni Archeologici della Toscana
Studio Macbeth, Inc.
Teylers Museum
Telecom Italia Media
Toneelhius
Treccani
TURRI 1870
Università degli Studi di Padova
University of Michigan
University of Minnesota
Universität Potsdam
UTET
Veneranda Biblioteca Ambrosiana (Milano)
Whitestar
Zanichelli Editore
Even the tiniest details can be presented in your de-luxe editions.
Masterpieces just a click away!
The advantages of ultra high definition work and leading-edge Fine Art printing – together!
And yet it moves. Even the most inaccessible artworks are now within our reach! 
You don't actually look at artworks. Not really − rather, you experience and live them.
Full immersion and art.
Art seen from a very personal close-up point of view.
Bespoke art solutions for sites of all kinds.
Deploy gigapixels as a driver for events management. Aim for uniqueness.
Personality, colour and dynamism: artistic details used to adorn commercial premises.
Artworks in gigapixel format. Unbounded creativity.
More than 500 masterpieces of Italian art in HD digital format.
Stunning images presented in a format that is extraordinarily explorable.
For artworks, digital acquisition is a health-giving practice!
Gigapixel is any enlargement specification that users may require, with no quality loss.
Haltadefinizione's images conserve the essence of artworks in digital format.
Gigapixel images of works of art available free of charge.
Art history researchers can rely on us to provide support of the highest quality.
Arts move us as nothing else can!
We can provide you with our expertise in the field of management of rights of use for all kinds of artwork.
To fully understand a work of art you must familiarise yourself with even its smallest details.
Tutte le collezioni presenti in archivio. 
Artworks in gigapixel format. Unbounded creativity.
Digitalizzazione per le opere di piccolo formato.
Nessuna opera è troppo grande.
La soluzione perfetta per i libri più antichi.
La luce giusta per ricostruire la forma.